The Ultimate Online Drone Course
WHAT'S INSIDE PART 107 PREP?
Inside Part 107 Prep you will find the tools you need to earn your license and become a successful pilot in the real world. The Part 107 exam covers A LOT of material. P
ilots are expected to know in detail topics ranging from effects of weather, to airport operations, and physical factors affecting pilot performance to name a few.

and most people don't even know where to begin.
Even if today was the first day you heard the word Part 107, we can take you from where you are to earning your license in just 2 weeks. We know this can be done thanks to our proven system...
Course Purchase Comes With LIFETIME ACCESS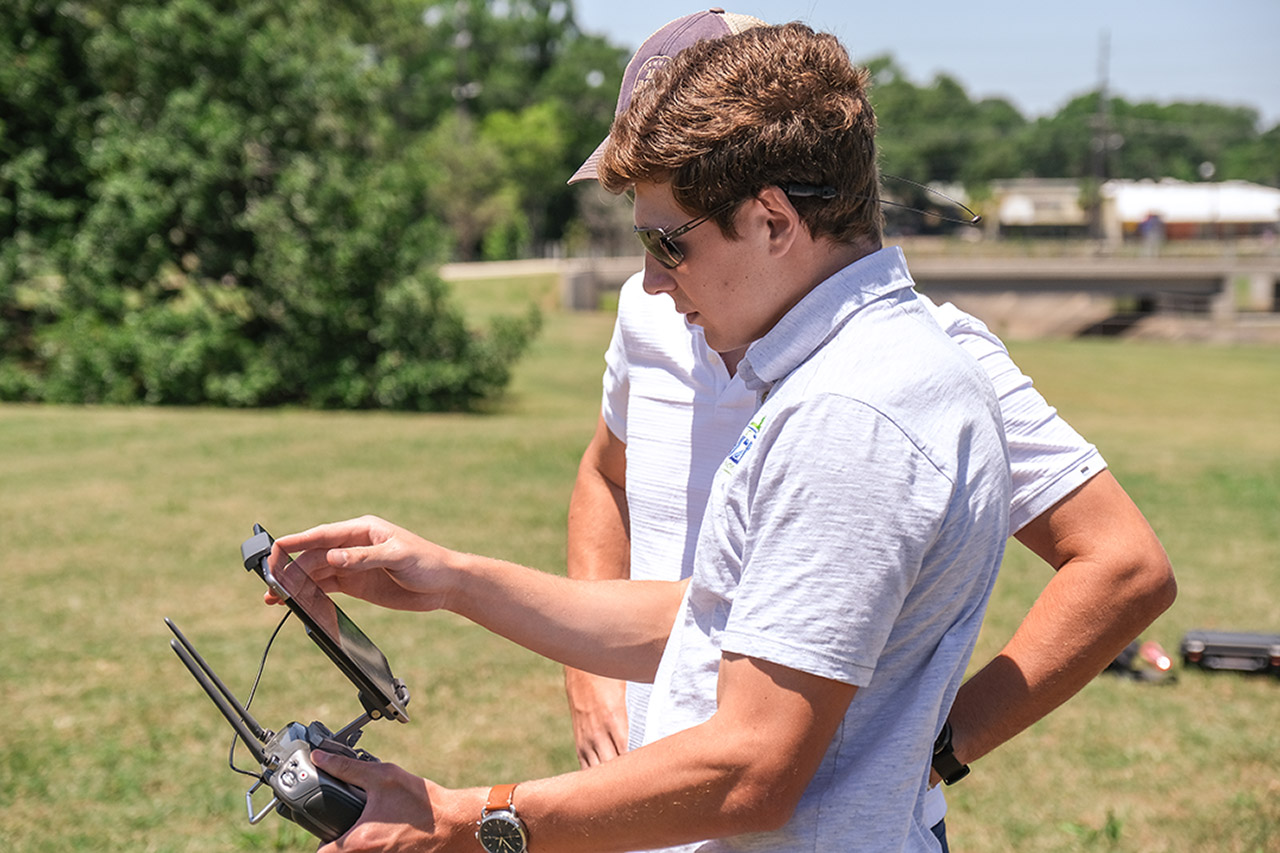 First Successful Steps
How to successfully operate as a pilot in the real world, beyond the Part 107.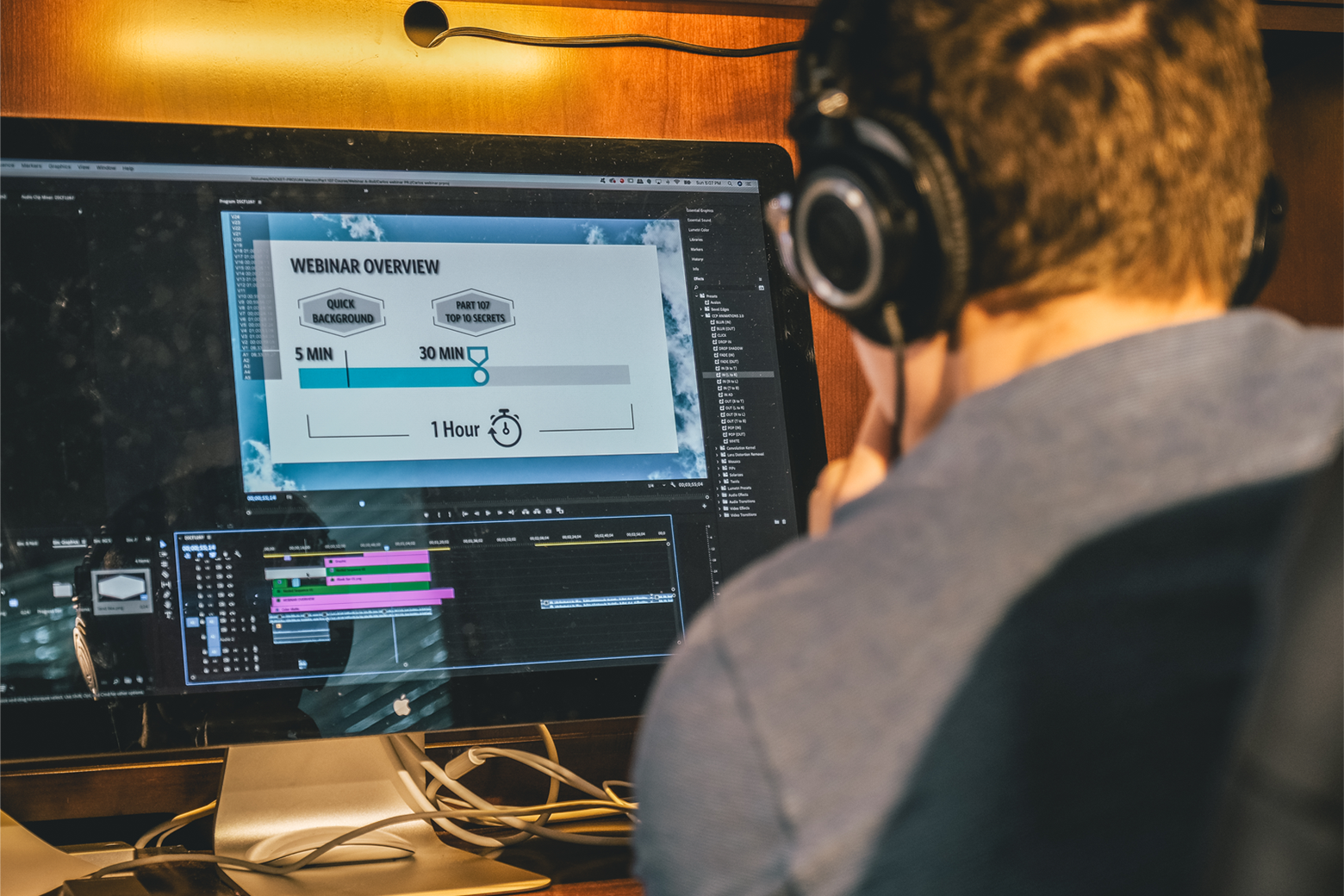 7+ Hours Of Video
7+ hours of short, easy to watch, engaging video lectures. Updated frequently!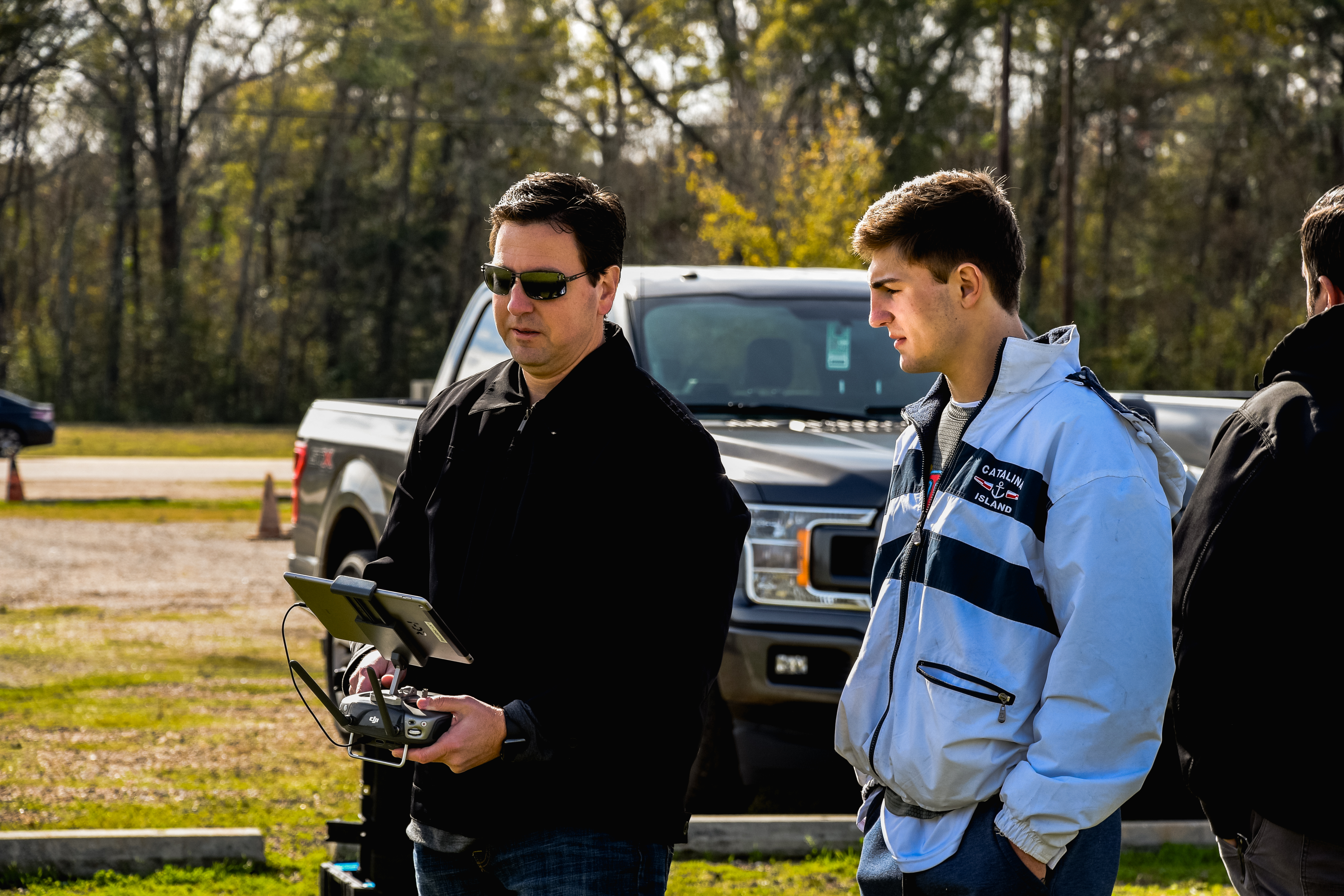 Case Studies
Learn practical skills from real life incidents our mentors have encountered.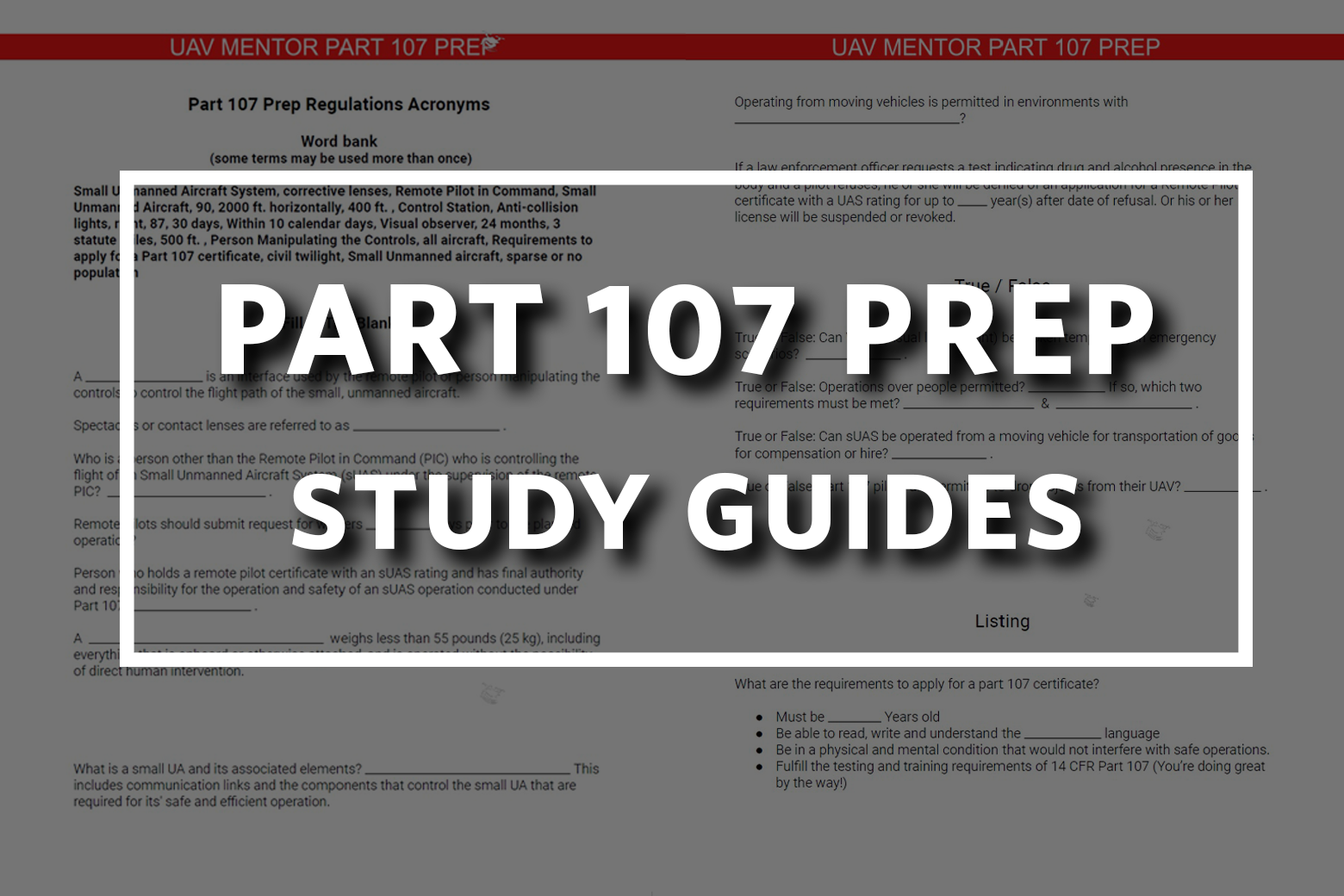 85 Page Study Guide
Our 85 page study guide will help give you the tools you need to learn and execute on exam day.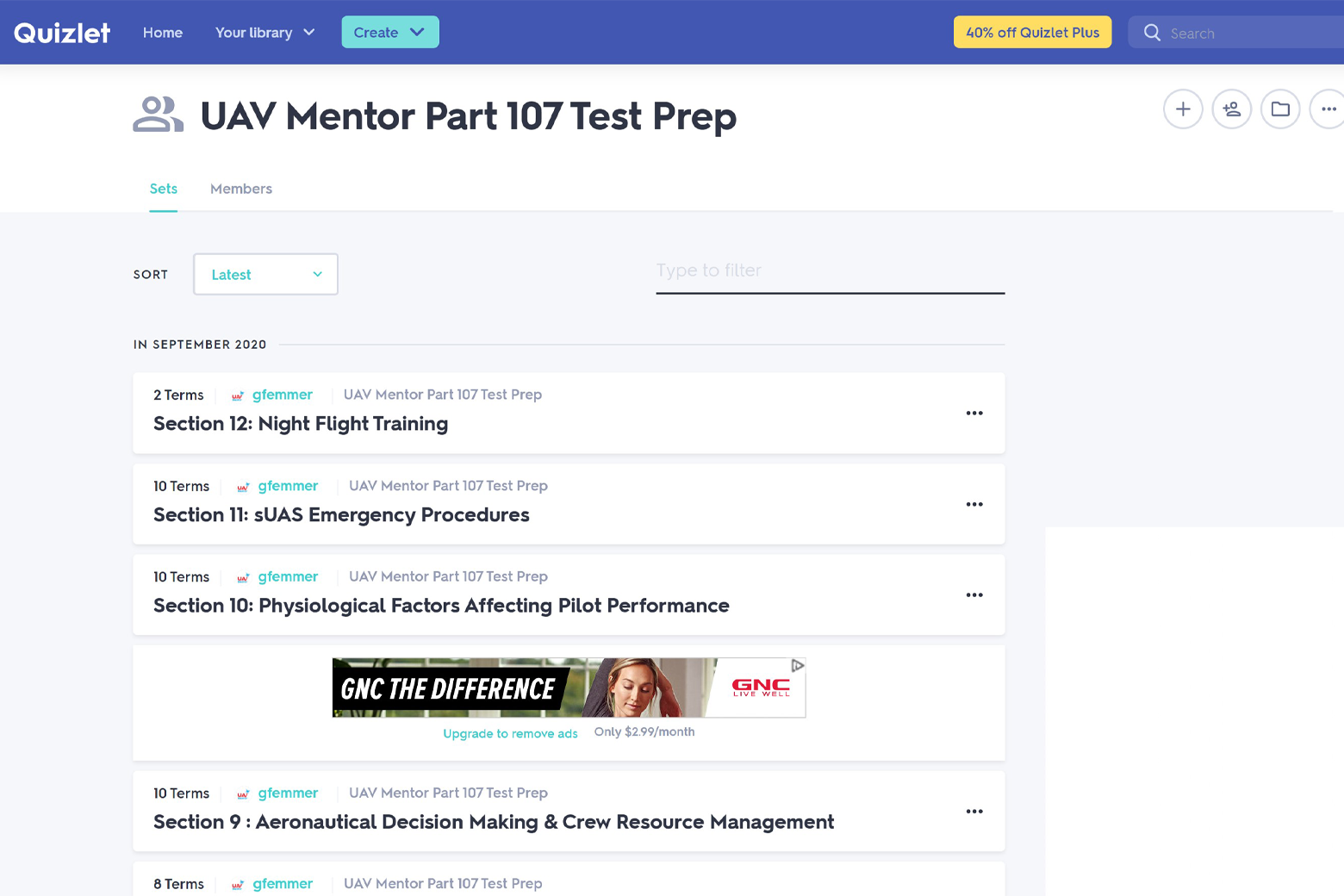 240+ Term Flashcard Set
Study with others, or on the go with our mobile-friendly 200+ term flashcard set.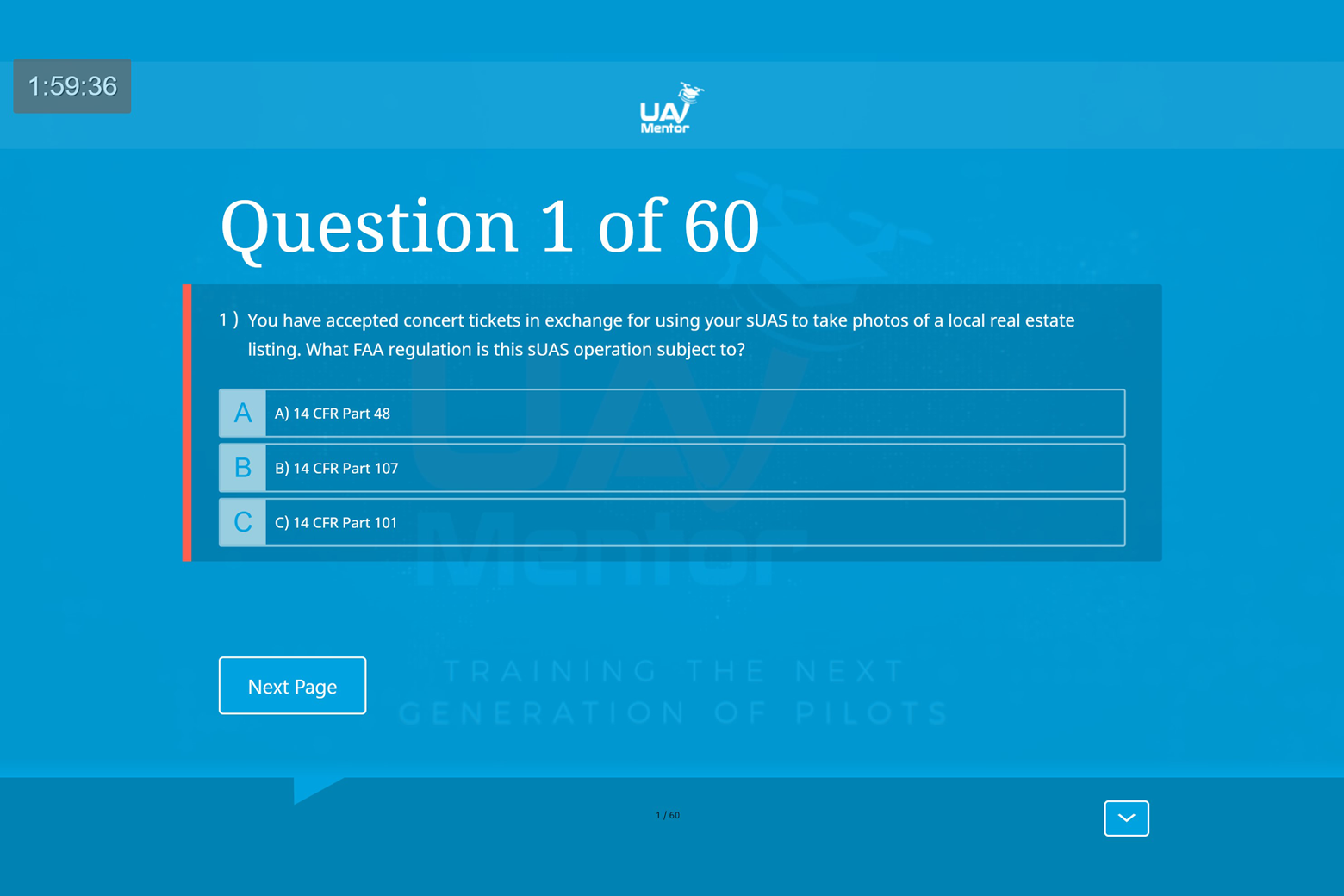 5 FREE Practice Exams
Prepare for exam day with 5 FREE practice exams. Each is structured exactly like the real Part 107!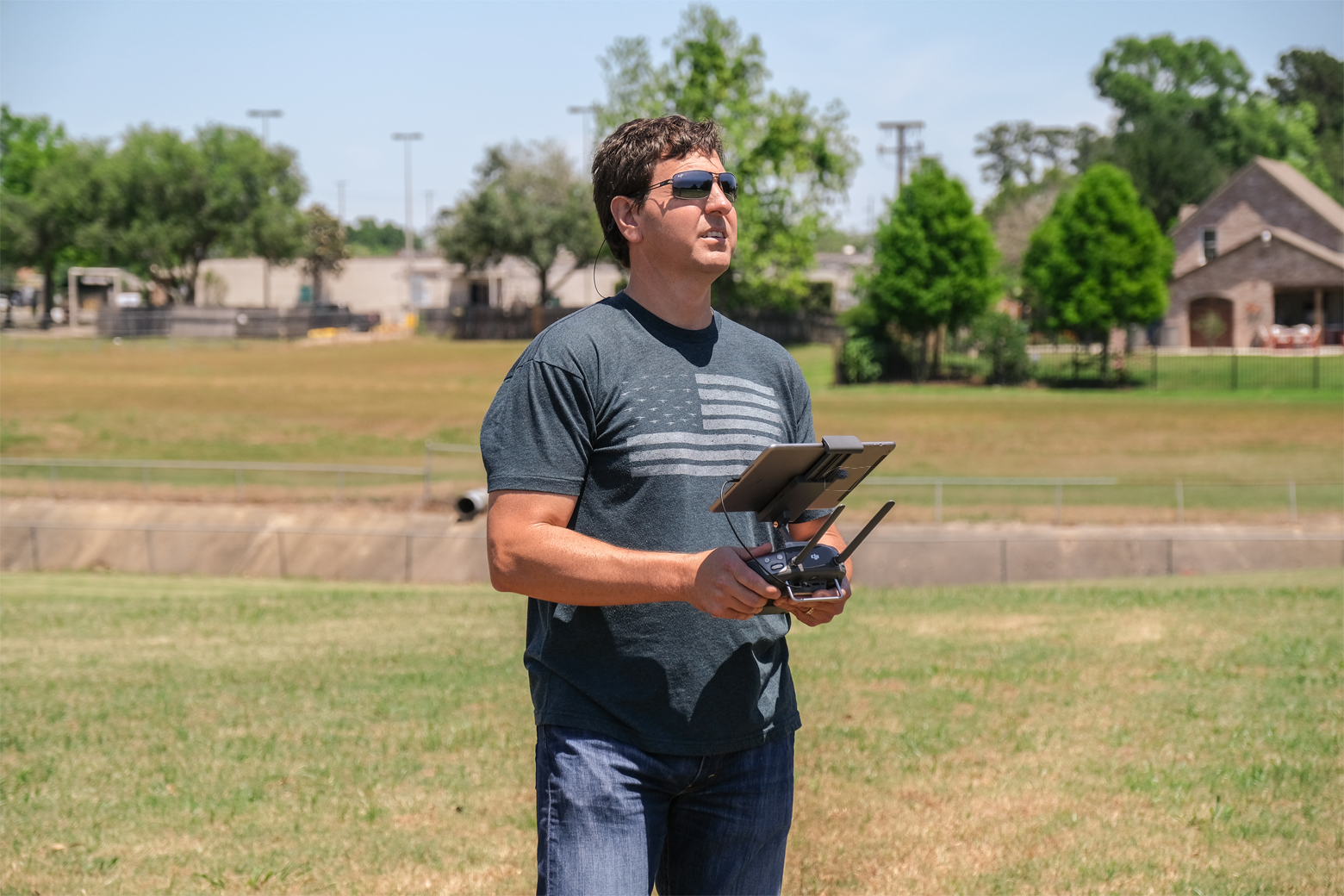 Personal Mentors
4 industry leading experts in your corner, personally coaching you through the Part 107!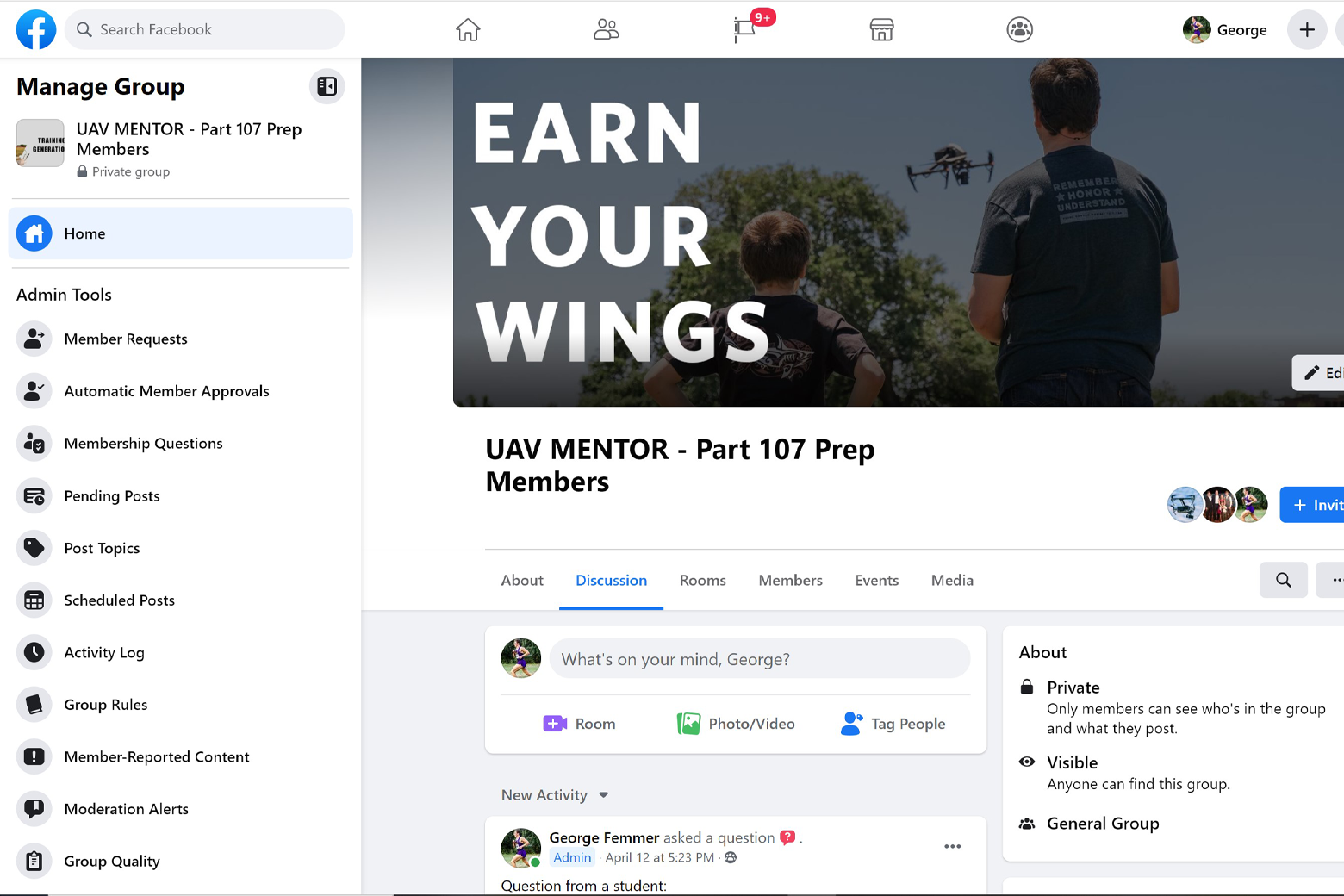 Pilot Community
Gain access to a private community of pilots and their learnings to guide you on your journey!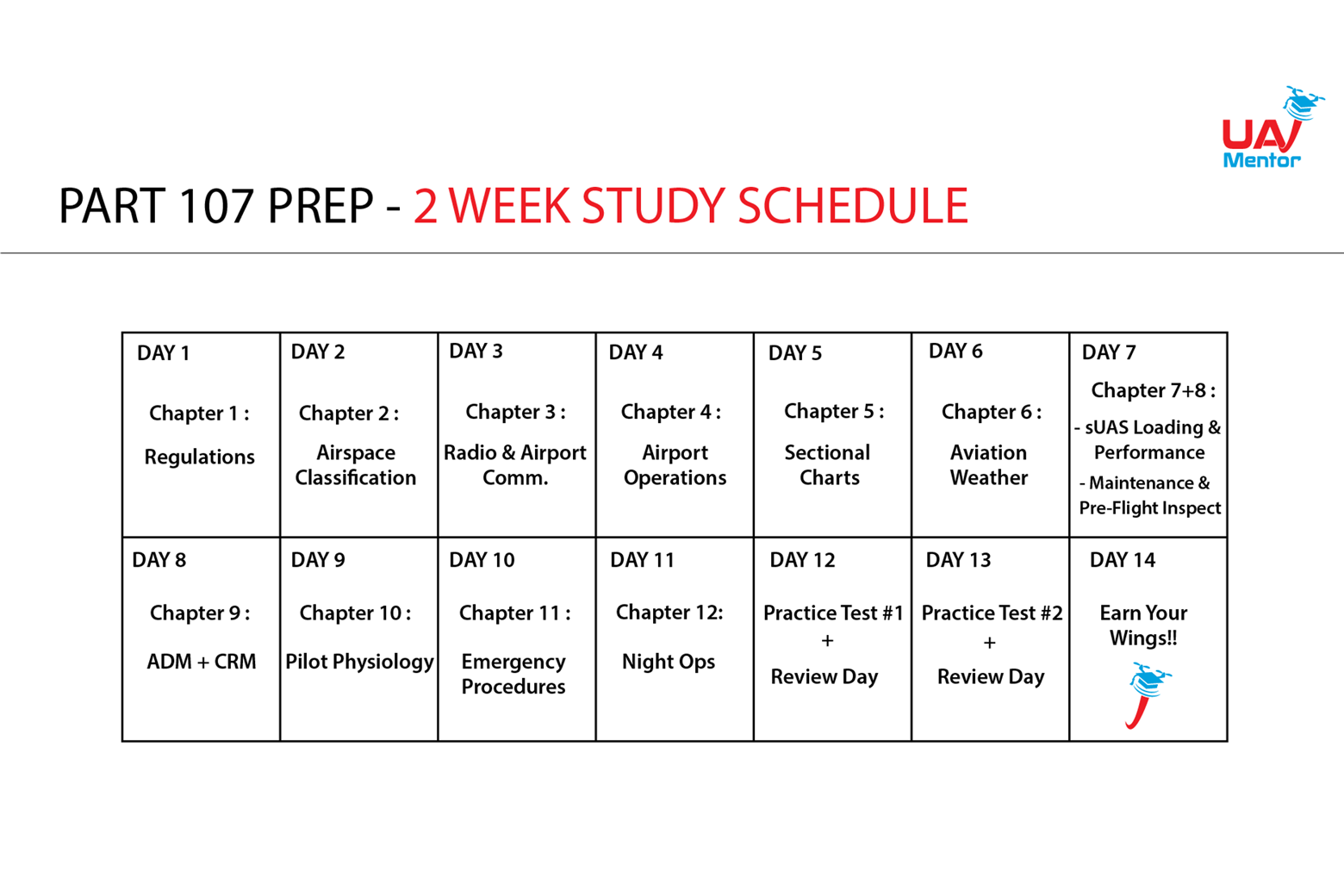 14 Day Schedule
With our course you can earn your license just 2 weeks from today with 1 hour of study per day.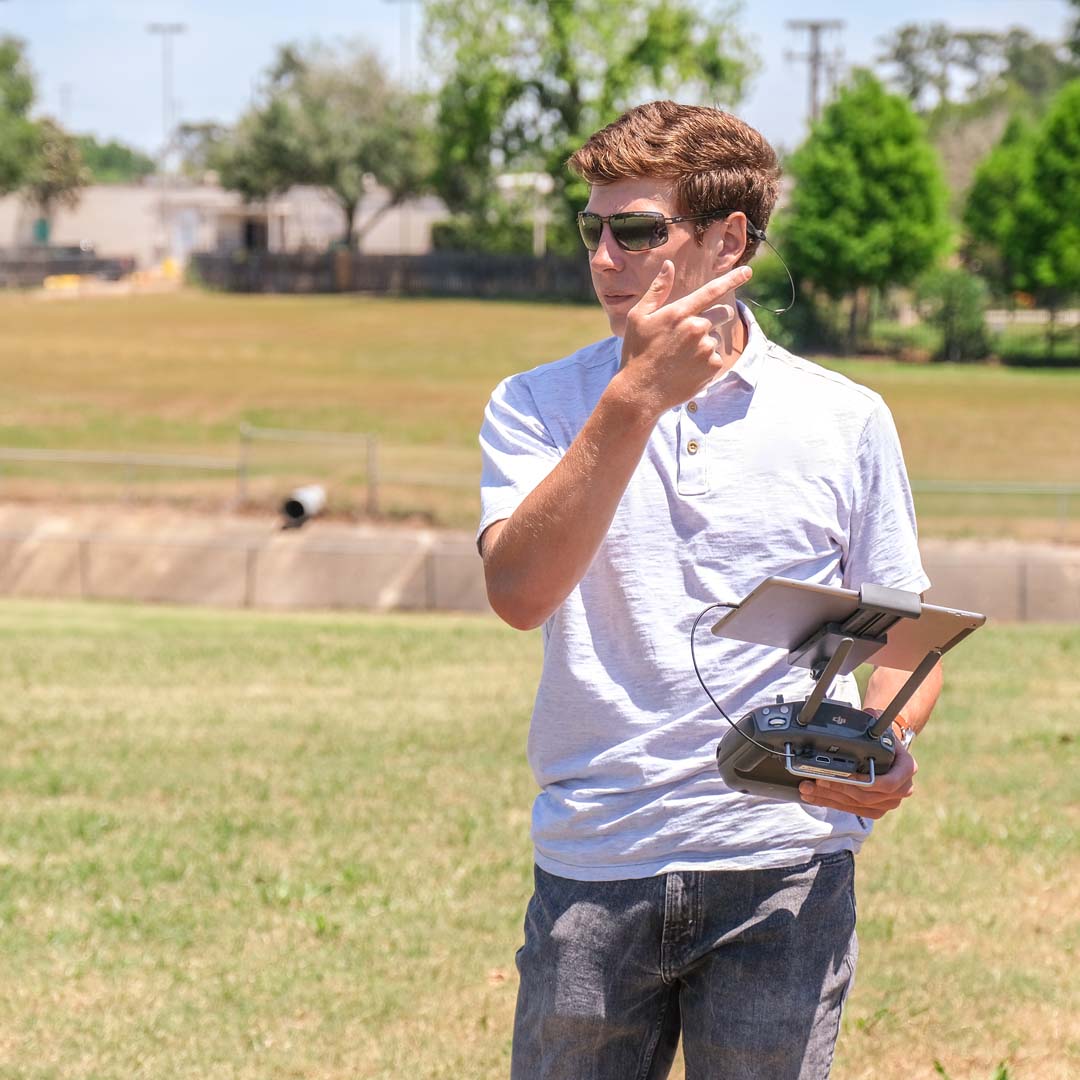 George Femmer
George Femmer has flown drones commercially for nearly 4 years now. He is a graduate of LSU and a former member of their 2021 national championship winning outdoor track and field team. George has accumulated extensive knowledge across drone media collection, marketing, and advanced editing practices. He will serve you as Part 107 Prep's senior instructor.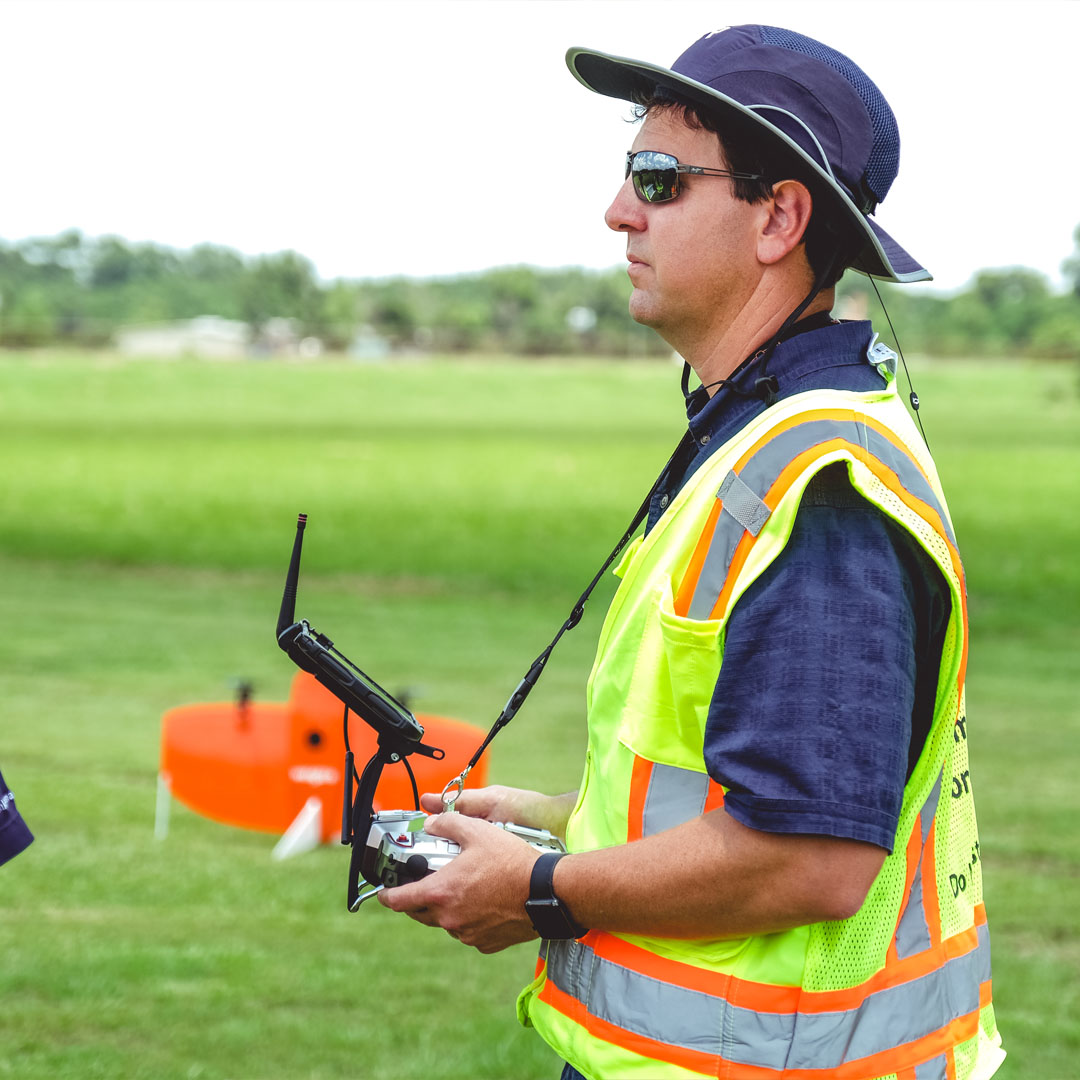 Carlos Femmer
Carlos Femmer is the guiding hand behind our mentors. He's spent the last 20+ years leading aviation & survey practices at some of the world's largest firms. In this course, he shares real world experience gained from performing drone surveys on some of the most iconic bridges, dams, and other infrastructure projects. He knows what it takes to succeed at the top of the corporate world!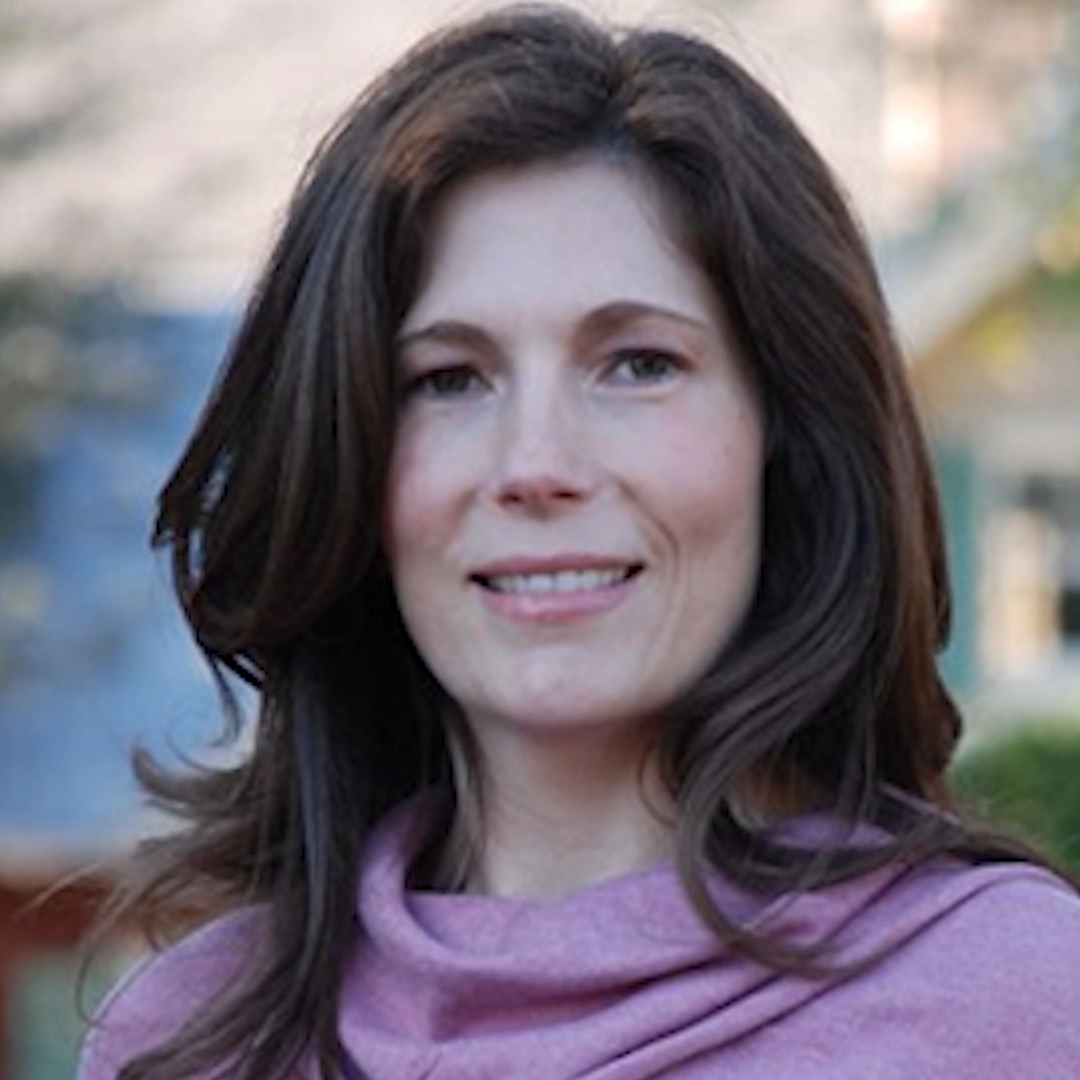 Tabitha Femmer
Before the Part 107, the only way to earn a drone license was through a 333 exemption. In 2016, Tabitha was awarded the 1st exemption to a female owned photography company in the nation! She will share her extensive knowledge of the waiver application system, and lessons learned from over 10+ years in the real estate media industry!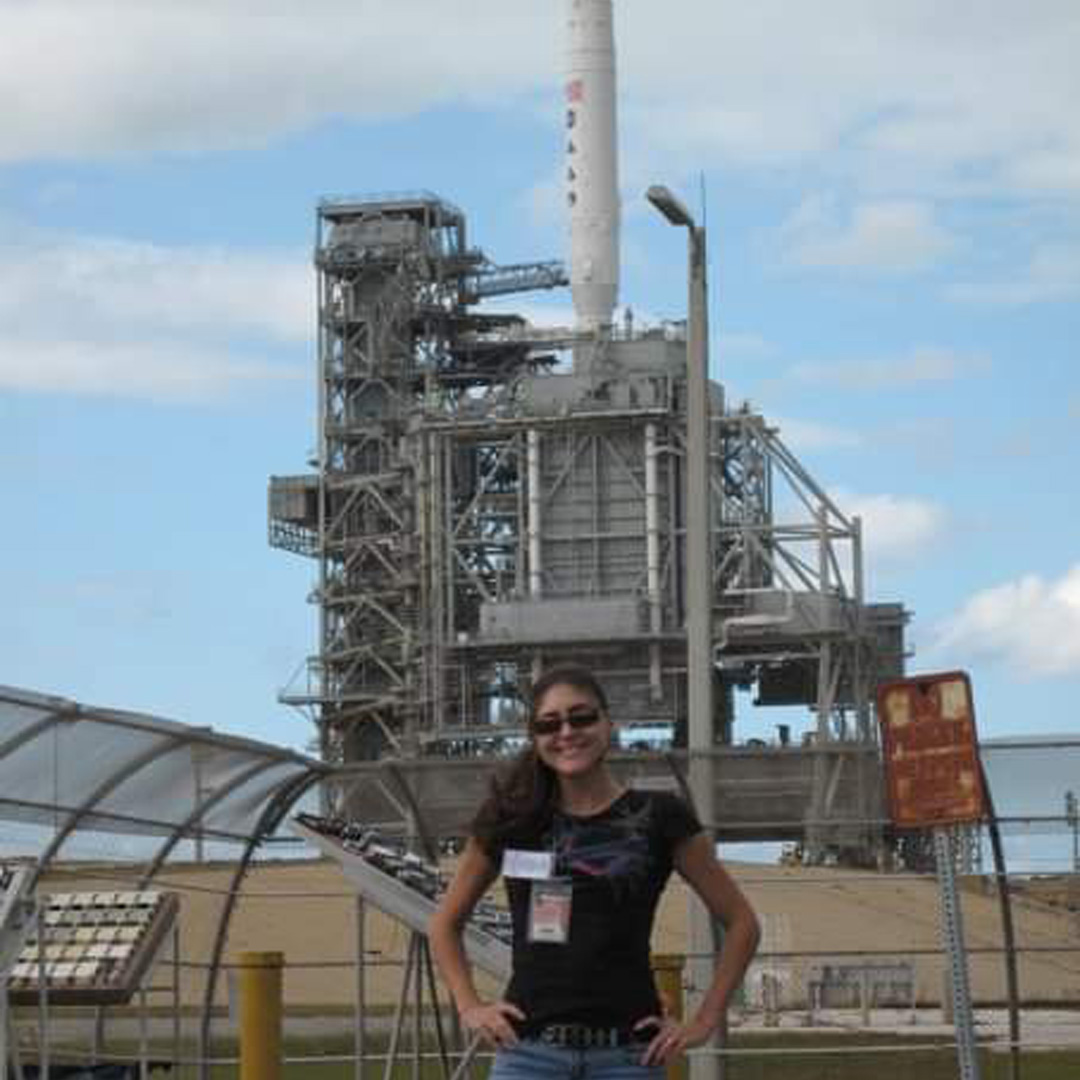 Emily Femmer
Emily is our learning experience designer who brings a wealth of experience in curriculum and instructional design. Her background includes work in healthcare (Johnson & Johnson, Virgin Pulse), defense (General Dynamics), and aerospace (NASA).
What You'll Learn In 107 Prep
(Hint: More than just passing an exam)
Our course is broken into 3 phases:
Mastering The 107
Across 12 chapters you'll be taught everything you may see on exam day. Our mentors will share HOW 107 regulations, and rules work in high level, real world drone operations.
107 Final Prep
After we've covered all exam material, there's one more step to make sure you're bulletproof for test day. We've created custom practice exams to expose our students to every imaginable question the FAA may throw their way. Thanks to our detailed score reports, students end every test knowing exactly what they missed and why, enabling them to accelerate their learning.
First Successful Steps
Once a pilot has earned their wings we move to the fun part! First Successful Steps will guide our students to picking the right niche, drone for the job, and what skills they need to develop to be successful in their niche. By doing this, students can find the most profitable niche for their unique talents, and hit the ground running immediately!
Want To See More? Check Out The Full Curriculum ↓
(Click the ⋁ button to view the full list)
How Our Course Prepares You For Success
(Passing the 107 isn't easy, but you've got mentors)
Like all certified pilots we went through the Part 107, and know every challenge facing you right now. The Part 107 covers A LOT of information. Most of this information doesn't tie back to anything you learned in school. This means most people have to begin preparing from square 1. It would be an intimidating task if you didn't have help... And that's where we come in!
4 To 1 Instruction
Because this is an online course, students don't need to fight to have their questions answered all at once in a class setting. We have 4 practicing mentors on staff to provide answers anytime you need.
Community That Cares
Easily the largest benefit of joining our course is to also join a community of individuals who want to see you succeed. We aren't just talking about our mentor staff! The individuals who comprise our Private Facebook group, comes from all walks of life. Some are pursuing their licenses alongside you, and others are attaining results in the real world that you'd like to achieve one day. Our community provides the perfect platform to connect and learn from these individuals and your mentor staff!
WHAT DO OUR PROUD STUDENTS SAY?
These are People JUST LIKE YOU
Our students come from wide ranging backgrounds and walks of life! We've trained everyone from officials from the Department Of Defense to honest, hardworking, recently retired men and women seeking to earn extra income. Anyone, no matter their educational background, can use our proven system to achieve success on this exam!
FREQUENTLY ASKED
QUESTIONS
ABOUT THE PART 107
WHY SHOULD I GET A DRONE LICENSE?
We could easily answer this question and complete a book in the process. The main benefit can be summarized like this. The cost of the 107 is $170. By taking this exam, you can immediately begin earning your share of a $24 billion (constantly growing) industry. No degree required.
Do You Think The Drone Market Is Done Growing?
Thanks to what we know from discussions with leading officials about the FAA's roadmap, we can assure you the industry isn't even near its peak... The drone industry may one day, but the possibility of a plateau is still DECADES away! The drone industry has shocked time and time again. No one can truthfully pinpoint how much the industry will grow by even to this year's end. The opportunities are there, and with our mentorship we know you can make it to where we are today!
Can I really make money as a drone pilot today?
Yes! Our mentors hire pilots to perform projects just like you. We know firsthand that opportunities are abundant for those who are willing to work hard and take a step of faith. Those students who do quickly find that the path has been laid out as clearcut and simple as possible. We've taken students from unlicensed pilot to paid operator just weeks after earning their 107!
What If I've Already Studied For Months On My Own And Feel Stuck?
If you're in this position, then you fit right alongside at least 80% of our students. It's difficult to prepare for this exam on your own! We had one student who tried to study on his own for over 1 full year. Between work, and family life he just didn't have the time to earn his license, until he joined our course! It brings us a great sense of joy to help prove to people that it can be done no matter how busy you are. You just need the right system!
ABOUT THE COURSE
WHAT HAPPENS IF I DON'T PASS?
We have full faith and confidence that you'll pass using our proven system! If for some reason you don't pass, we'll refund your exam cost! We don't want your money if we haven't fulfilled our promise to you.
WHAT HAPPENS AFTER THE PART 107?
The Fun Part! Purchasing Part 107 Prep grants you access to our Post Part 107 Course, First Successful Steps. This training section provides an uncut look at most of the major drone industries today. We'll show you everything including industry pros and cons, required skills, necessary equipment, and jobs drone pilots are being paid for today. Using this info we'll help you select the best fit, so you can hit the ground running right away! To our students, we serve as mentors on and well after the Part 107!
Will I Really Have Access To The Mentor Staff?
Absolutely! We've had students who ask us literally hundreds of questions in the process of earning their licenses. We don't mind it one bit, and in fact we encourage your questions! Every question we answer brings that student closer to the attainment of their goal. We also share some questions with the 107 Prep community, allowing hundreds to benefit from one student's question.


If I buy Part 107 Prep can I get a discount on other courses?
Yes! we offer a 25% discount on all future courses when you purchase Part 107 Prep. This discount will not expire. We encourage you to take advantage of this discount in furthering your education beyond the Part 107! We encourage you to continue educating yourself, and are here to provide our expertise for your personal gain and benefit.
Will I Need To Purchase Any Study Tools?
Not a one! Another benefit of purchasing our course is we've included everything. Every study guide, flashcard set, quiz, practice test, anything we believe could benefit you is included in this course. And you won't have to pay a dime more for any of it!
How Long Will It Take To Complete The Course?
If you follow our provided 14 day study schedule, you'll go from where you are today to licensed pilot in just 14 days. And yes, it really can be done this fast! But don't worry if you need more time. You can take as long as you need to go through our course! We have provided our study schedule as a guide for those who desire to earn their licenses quicker.
How Long Will I Have Access To The Course?
You will be given lifetime access to Part 107 Prep! Your membership in our course will never expire, even as the Part 107 changes over the years. You will never have to pay more than the price today!
DON'T DELAY ANOTHER DAY!
Our team has created the most painless path to earning a Part 107! By taking this step of faith, you'll guarantee yourself a 107, and as you'll find out, more opportunities than you never dreamed possible...